Robert T. Vaughn
"We Don't Judge You, We Defend You"
Robert Vaughn is a member of the NORML Legal Committee and the only attorney in private practice who is a member of NORML's esteemed Advisory Board (National Association for the Reform of Marijuana Laws)
Please visit NORML's website for more information.
Our Practice Is Only Criminal Defense Including:
Criminal Defense
DUI
Implied Consent
Controlled Substance
Possession and/or Resale
Drug Paraphernalia
Drug Charges
Felony
Misdemeanor
Assault
Robbery
Synthetic Marijuana Charges
K-2 - Spice Possession or Sales
Bath Salts
Synthetic Drug Possession or Sales
Theft
Burglary
Weapons
Arson
Vehicular Offenses
Assault
Homicide
Domestic Violence
Stalking
Solicitation
Harassment
Sexual Battery
Order of Protection
White Collar Crime
Embezzlement
Forgery
Conspiracy
Racketeering
Gambling
Identity Theft
Internet Fraud
Murder
Prescription Fraud
All Criminal Offenses Involving Federal, State & Local Laws
Welcome to the Law Office of Attorney Robert T. Vaughn. Hiring a criminal attorney is a serious matter. You are frightened, confused and must place your trust and hope in an attorney who is to defend your rights and represent you in the most fearful, anxious time of your life. You want an attorney who recognizes that you are not just another fact situation but a real person with family, a job or perhaps school or career that can suffer or be greatly set back because of your criminal charges. You need the best criminal lawyer who can give you hope that there is light at the end of the tunnel. You want a criminal attorney who understands your concerns and fears, will aggressively and skillfully defend you and not stand in judgement. You deserve a DUI Attorney with a proven track record of client satisfaction and the experience to resolve your charges to your satisfaction. Call us to schedule a consultation...one where all questions will be answered, fears will be dealt with and you will walk away feeling more control over the situation at hand.
When you need a DUI attorney...When you are facing criminal charges...How do you choose the best attorney for your needs?
With over 30 years of aggressive, proven defense and our record of satisfied clients throughout The State of Tennessee, Robert Vaughn has the experience, integrity, seriousness and knowledge to successfully defend your DUI charges or Criminal Case. His primary practice area is criminal law and Mr. Vaughn has defended individuals charged under both State and Federal law charged with various crimes including DUI & Implied Consent, murder, manslaughter, wire fraud and possession and resale of controlled substances of all types. Mr. Vaughn is also recognized throughout the United States for his work in defending those charged with drug paraphernalia at both the state and federal levels. Mr. Vaughn is recognized as an outstanding lawyer in the area of Criminal Defense and DUI Defense in Nashville, Tennessee. Our client testimonials and client satisfaction are second to none.
The law office of Robert Vaughn approaches each client as an individual and maintains a concern for their personal and constitutional rights. DEFENDANTS REPRESENTED BY ROBERT VAUGHN NEVER STAND ALONE. While his practice is national in scope, Mr. Vaughn also engages in local criminal defense representing issues involving DUI, DRUG CHARGES, PARAPHERNALIA, THEFT, ASSAULT, HOMICIDE AND ALL CRIMINAL VIOLATIONS OF TENNESSEE LAW. When you need information on DUI charges in the Nashville or the Middle Tennessee area, we invite you to click on the DUI FAQ tab at the top of this page for specific information on DUI charges.
Robert Vaughn's knowledge, experience and aggressive defense of his clients has made him the Nashville Criminal Attorney of choice. We hear over and over from our clients that they were referred by another very satisfied client. That is an honor not to be taken lightly. His skill as a DUI Attorney in Nashville and Middle Tennessee has made our office a top choice for those with DUI charges, especially those persons whose job security depends on having a valid TN driver's license. Our client satisfaction with Mr. Vaughn's representation as their DUI Lawyer in Nashville and Middle-Tennessee is something we are very proud of. Our office defends individuals not only in Nashville, but also the surrounding communities of Gallatin, TN (Sumner County), Hendersonville, TN (Sumner County), Lebanon, TN (Wilson County), Murfreesboro, TN (Rutherford County), Franklin, TN (Williamson County), Columbia, TN (Maury County), Clarksville, TN (Montgomery County), Dickson, TN (Dickson County), Springfield, TN (Robertson County), Cookeville, TN (Putnam County), Carthage, TN (Smith County), Chattanooga, TN, (Hamilton County) and throughout the State of Tennessee. Call us at (615) 259-1230 to schedule your DUI or Criminal Charge consultation now.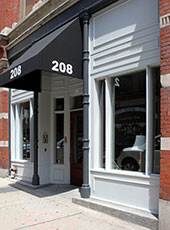 We are located on historic downtown 3rd Avenue in Nashville, Tennessee, below the newly renovated Davidson County Courthouse.
A lifetime resident of Nashville, TN, Mr. Vaughn is devoted to Nashville and our outlying communities. Our office provides aggressive, experienced and serious representation of your charges. We are proud of having no unresolved bar complaints and our record of client satisfaction.
On behalf of Mr. Vaughn, his assistant Lisa Lee and Office Staff, you are invited to contact his office to schedule an initial free consultation. "We Don't Judge You, We Defend You" is the motto of this office. It is the way we practice law; it is the way we defend our clients...contact us today.
Client Testimonials
"During our time of crisis, we spoke with many attorneys; some used scare tactics while others tried to judge our integrity. We got several mail solicitations. There are many attorneys, but there are very few experienced and professional attorneys like Mr. Vaughn. He took the time to speak with us, understand us, and finally got us through our time of crisis. The only good thing during our time of crisis was getting acquainted with Mr. Vaughn. His motto is true in reality...'He does not judge a person but defends him'. Would highly recommend Mr. Vaughn and the good people at his firm." – A.K. - Nashville, TN

"I would highly recommend Mr. Vaughn as the #1 Defense Attorney in Nashville. He has helped me out so much and I have great expectations that he would do the same for any new client. Because of my felony drug charges, I felt hopeless and now I get a new start in a new state with my wife. Thank you, Mr. Vaughn." – J.W. Nashville, TN
"Very satisfied with Mr. Vaughn, who has represented me on criminal charges in both Seminole and Orange Counties" – James N., Orlando, FL

"I had never, ever been arrested in my life. Getting a DUI and Implied Consent charge while visiting in Nashville was the first time I had ever been on the "wrong side of the law". I did not live in Tennessee and didn't know where to turn. I found Mr. Vaughn on the internet and I would recommend him to anyone facing these problems. He did an excellent job for me. I felt so lucky to have found a lawyer I could trust with me living out of state. Thank you for all you did. I do not have a DUI on my record and that was my main fear." – T.S., Florida

"Robert Vaughn is the ONLY attorney to call if you or a family member is in trouble. He is an outstanding attorney who was there for us during our family member's desent into a nightmarish world of drug charges and manufacturing charges. If it were not for his expertise in representation, I am sure that our son would have gone to prison for a very long time. I cannot go into details but wish I could give an account of what he was able to do. Experience counts when you are hiring an attorney. We talked with several and hired the best. He was on our side all the way. Thank you, Robert." – Anonymous, Middle Tennessee

"My trial? Hung jury. I am home. Enough said. He is, in my opinion, the best criminal attorney in Tennessee." – M.S., Middle Tennessee
The determination of the need for legal services and the choice of a lawyer are extremely important decisions and should not be based solely on advertisements, certification, specialization or self-proclaimed expertise. Certification of specializations are available to Tennessee lawyers in all areas of practice relating to or included in the areas of Civil Trial, Criminal Trial, Business Bankruptcy, Consumer Bankruptcy, Creditor's Rights, Medical Malpractice, Legal Malpractice, Accounting Malpractice, Elder Law, Estate Planning and Family Law. Listing of related or included practice areas herein does not constitute or imply representation of certification of specialization. These disclosures are required by the Supreme Court of the State of Tennessee. This website is designed for general information only. The information you obtain at this site is not, nor is it intended to be, legal advice. You should consult with an attorney for individual advice regarding your own situation.